Så vann han då till slut sin första Oscar. Leonardo DiCaprio, tidigare nominerad fem gånger (vilket är mycket givet att han fortfarande är rätt ung), fick äntligen kliva upp och hålla ett sådant där traditionellt och tråkigt tacktal.
Det är få Hollywoodskådisar jag unnar en Oscar så mycket som DiCaprio. Hans briljans är en röd tråd genom karriären. Från hans roll i Gilbert Grape till felfria prestationer i Catch me if you can och The Aviator, starka roller i The Departed, Shutter Island och Blood Diamond och en prestation i The Wolf of Wall Street som borde ha gett en Oscar (han fick en Golden Globe).
DiCaprio har hunnit göra väldigt mycket och arbeta med fantastiska regissörer och skådespelare. Hans variation är imponerande. Många fastnar i ett fack som skådespelare, men DiCaprio har i stället valt att hoppa runt en del och arbeta med olika genrer. Det han inte har gjort hittills är rena komedier.
Att filmen han hade sin nu belönade roll i, The Revenant, inte vann pris som årets film spelade nog mindre roll.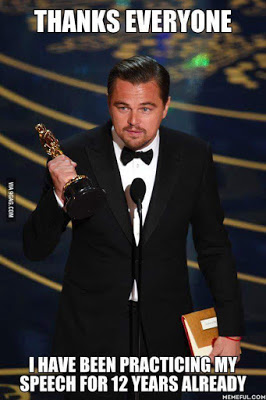 (Visited 30 times, 1 visits today)